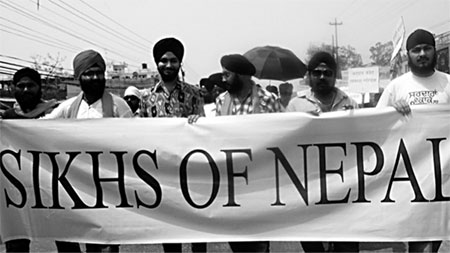 It is the matter of 18th century that or say 175 years ago that Sikhs entered Nepal. Maharaja Ranjit Singh from Punjab had a good rapport with the then patriot of our country Jung Bahadur Rana, rather say Rajnit singh was regarded as His guru. After Ranjit Singh passed away, East India Company gave a plenty of troubles to his wife named Jinda Kaur. Consequently, she ran away from there, and came to Nepal via Nepalgunj along with her kith and kin and courtiers and Jung Bahadur Rana gave her shelter and regarded her as her own sister. Later she went to London. But those who were left in Nepal, started their livelihood in Nepal. Gradually generation after generation, their population grew and they have become Nepali, Sikh. There are still some territories in Nepalgunj near Indian border but lies in Nepal where most of these population lives, which has been named Shikhhanpura, Jamunaha and Bankatwa. They are still living there and most of them are enjoying their rural life. They have their different profession but rather in automobile profession.
Sikhs' Role to pave the way for Roads In Nepal
It is believed that 60 or 70 years ago, there were no road facilities in Nepal. It is the contribution of Sikh community that they, courageously, started their driving in Nepal and it is they who contributed a lot to make the beaten track (Goreto Bato) . After Nepalgunj, Sikh community started living in the border areas basically like Birgunj, Biratnagar etc from Mechi to Mahakali.
In Birgunj, Late Bhagwanti Kaur and his son Late Sardar Ragbir Singhpioneered in selling general merchant goods (small departmental store) of that time. The store had almost everything and was located at Pan Mandi Galli in Birgunj and on the main road in Hetauda. Late Sardar Ragbir Singh also played a vital role in introducing different kind of cold drinks like first Coke, Fanta, Thumbs Up etc then Limca, Soda etc from Agra, Patna to all over Nepal. Moreover, it was he who established Shere Panjab Hotel for the first time in Birgunj around Paan Mandi Galli as well as on the main road in Hetauda.
Lack of social security of Sikh Community in Birgunj
According to Jaspal Singh, there is no social security for them. He made an ironic smile saying that those who took their citizenships yesterday look at them as if they were no Nepali and they make sarcastic remarks looking at them. He said "how long shall we keep waiting believing that the situation will get better? Our patience will leave working. Anyways, we have no options except Wait and Watch if not I don't think except me, anybody will stay here." He said a very emotional matter that there is no representative of Sikh Community in Constituent Assembly which is known as the most inclusive Constituent Assembly of the world. It is a big joke for our community. Then how we can believe that there is our social security. When asked the question as why the people of your community have not been involved in politics. He replied "it's a dirty game on the one hand and on the other hand no political parties have ever made any approaches about our institute." He said "now it's too much. So I think we should also conduct some peaceful procession if not hold strikes to pressurize the deaf and dumb government. It is a really a very pathetic story of Sikh Community in Nepal."
It has been found that hardly any youths are available in Birgunj. Most of them are in India for their further education and career and a very few are in Katmandu. If they get better opportunities out there, why should they come to Nepal?
Above article is a brief History of Sikhism in Nepal. Click here to go back to History of Sikhism